Hardwood Flooring Installations
Hardwood flooring is timeless. Plus, it's a gorgeous addition to any home. If you're seeking an undeniably durable, yet warm and inviting flooring material, you should certainly consider hardwood.
Now, the benefits of hardwood don't stop there. So let's take a closer looks. Here are the pros, as well as some of the cons, of hardwood. Read on, and feel free to learn more about all of our flooring options.
The Pros of Hardwood Flooring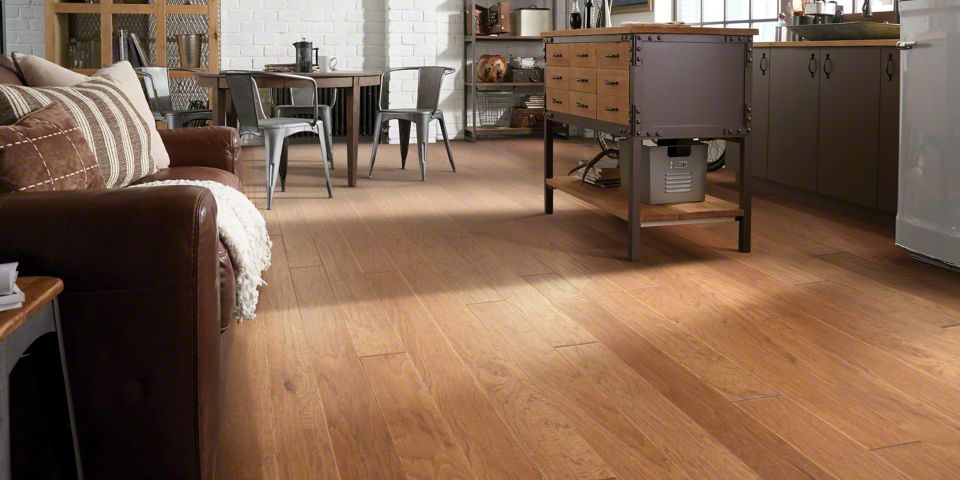 Hardwood is famously beautiful, durable, easy to clean, and it adds lasting value to your home. Plus, we carry a diverse catalog of hardwood flooring materials for you to peruse.
Aesthetics: Hardwood flooring is naturally beautiful. It just feels right in a home. Use hardwood flooring in any room in your home to give it a lively look. You can also select a color, grain, and stain which are perfectly suited to the look of the rest of your home. Match the hardwood floors with your kitchen cabinets to make your entire kitchen glow. Or use dark hardwood floors to contrast the white furniture in your living room. With First Quality Interiors' hardwood floors, the possibilities are endless.
Durability: Hardwood is surprisingly durable, plus it can be fixed when most minor damage occurs (e.g. scuffs, scratches, and dings). Over the years, wood flooring can actually gain character (which is why we carry a selection of "weathered" woods, which look uniquely warm). And, if you put your flooring through lots of damage over the years, you can simply sand down the surface, refinish it, and voila, you have a brand new flooring surface.
Cleaning: Unlike carpet, hardwood is easy to clean, even when you accidentally spill a quart of milk on the floor. Simply get a mop and some wood floor cleaner, and get to work. Hardwood is naturally stain resistant, and cleaning your hardwood usually just means a quick sweep or mop.
Value: Hardwood retains its value in your home. While carpet can fade, become stained, or eventually lose its resilience, hardwood won't change much over the years. With hardwood, your investment in high-quality flooring stays with your home.
Our Vast Catalog: There are so many hardwoods to choose from. We've partnered with hardwood producers (including Lauzon, Shaw, Karndean, Mohawk, and more), to bring our valued customers a selection of premium woods at affordable prices. You're sure to find a hardwood that's ideal for the atmosphere of your home.
The Cons of Hardwood Flooring
While hardwood is one of our most popular choices, some folks choose other products simply because hardwood is a bit more expensive, and it may require more maintenance. You'll have to be sure to use hardwood-safe cleaning products to keep your surface pristine. You can read more about hardwood floor maintenance from one of our suppliers, Mohawk — take a look at their Hardwood Care & Maintenance page.
It's rare, but hardwood is also prone to warp with high temperature swings and humidity changes.
---
Get Started With First Quality Interiors
Have you decided on the right flooring material for your home? If so, it's time to get started. Take a minute to use our product selector, so that you can find the perfect hardwood (or hardwoods) for your abode. Then, schedule a free flooring dimension measurement from the flooring professionals here at First Quality Interiors. We'll swing by, take measurements of your floors, discuss the hardwood material(s) you'd like to use, and we'll give you a quote. Then, it's time to install!
Also, please get in touch with us if you have any questions about our flooring installation services, and feel free to explore our other flooring options, including carpet, vinyl tile, and laminate flooring!